CHARITIES/FUNDRAISING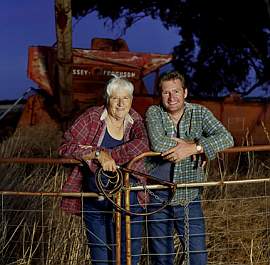 Dawn's fundraising collages have been extremely successful in assisting many needy causes. She has supported fundraisers in many areas of the community via Golf Days, Charity Ball's, Benefit Evenings and the like.


All of the past 40 years Dawn has been asked to host or attend fundraising events all over the country, she does her best to help but it is impossible to get to everyone.

Whilst on her farm some years ago at 3.00am sowing crops, Tim Konz and Dawn brainstormed two of the most successful limited pieces of personal memorabilia this country has ever seen.

Now fundraising events all over Australia can benefit from these wonderful collages. Dawn Fraser memorabilia produces more significant funds for the beneficiary than any item Dawn has ever autographed.

Interestingly enough you will not find Dawn's personal exclusive fundraising collages in any retail outlets; they are only available via this website click here

Enquire today on how you can have this exclusive series of memorabilia at your upcoming benefit or fundraising event.

Send your contact details to The Australian Sports Hall of Fame via email by clicking here and include details of the event, date, venue, and Tim Konz will be in touch shortly.

Comments/References…

Goulburn Rugby Union Football Club NSW, Matt Klem and Liz McLoughlin: When Goulburn Rugby Club was initially contacted by Dawn and Tim, we could not believe it; we actually thought that it was friends playing a prank on us. Then we received the email from Dawn with pictures of the collages, and we were completely blown away! read more

Royal Rehabilitation Centre Sydney, Jim Towers: The value of this collection is not just the excitement it generates from competitive bidders on the day, but the media interest it can create — providing valuable press coverage leading up to the fundraising event. The name "Dawn Fraser" continues to improve in value and her generous support of charities is legendry. read more

Juvenile Arthritis Fundraising NSW, Mary Kranitis: In April 2007, I took what I thought to be the ambitious challenge of holding a Fundraising event for my son George whom is 9 years old and suffers from Juvenile Arthritis … I was overwhelmed to have such unique pieces of memorabilia from Dawn to be a part of our Fundraiser. read more